MASTER CLASS in ITALY — IN PERSON!!
31 AUGUST – 5 SEPTEMBER , 2021 + CASA DELLA MUSICA SAN MICHELE +
https://cdmsanmichele.com/events/camilla-hoitenga-masterclass-di-flauto-e-musica-da-camera-contemporanea/?fbclid=IwAR1aXzr1iaA_3UFDQRpCztRfGdjf5Vn96TbSFkD1zQeT_-Rx0UyZWBu7oas
https://cdmsanmichele.com/casa-della-musica/
NEXT CONCERT — TOKYO, JAPAN, 1 JUNE:
Registration is open for a very special online course with me and some of my favorite "NEW MUSIC FLUTE" colleagues!
Write me for more details, or book a call with Shanna Pranaitis over the website http://www.flutexpansions.com
Postponed until 10 January 2022:
I'm so excited to be playing classic solo works from my personal repertoire, including "old friends" that have been with me beginning decades ago!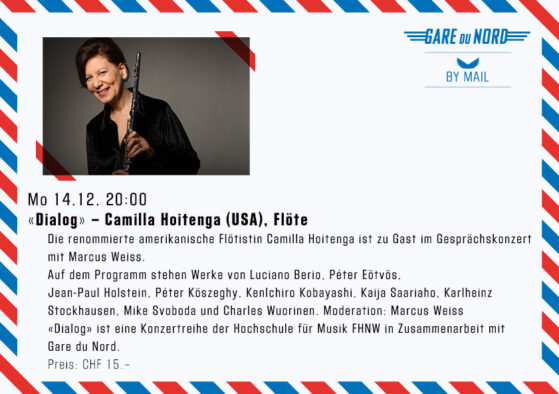 In other news:
I, too, am TEACHING ONLINE and have a few spots left for motivated students! Interested?
Contact me for your FREE TRIAL LESSON! Then we can discuss which program would help you the most!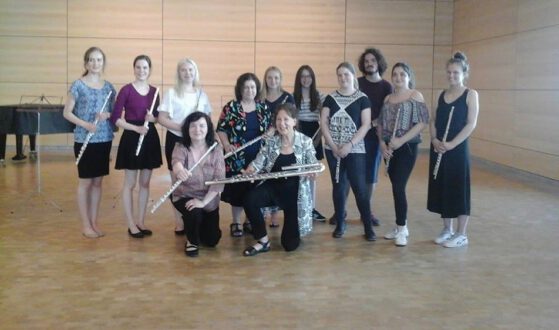 COVID-19 Recordings:
In A Heartbeat by Stefan Hakenberg Listen with the artwork of Harald Klemm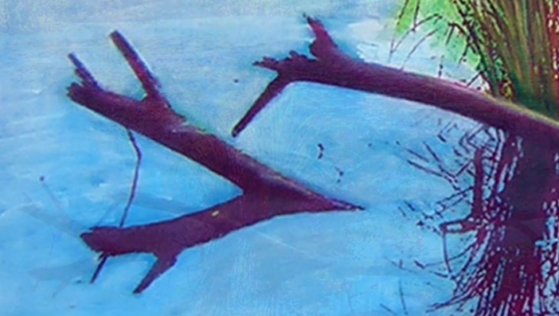 Or watch the live version in the studio concert at Casa della Musica San Michele !!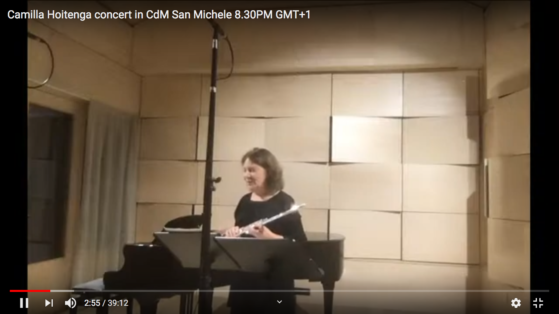 Program:
Peter Koeszeghy*, Lava for solo flute
Stefan Hakenberg, In a Heartbeat for solo flute
Peter Koeszeghy*, Breathe Only for flute and piano
Camilla Hoitenga – flute
Daniele Nava – piano
*written for Camilla Hoitenga
I also had the pleasure of playing some classical arrangements with guitarist Michael Collings in Sylva, North Carolina. Here's one of our favorites:
Sonatina Op. 205 II Tempo di Siciliana, with Michael Collings, Guitar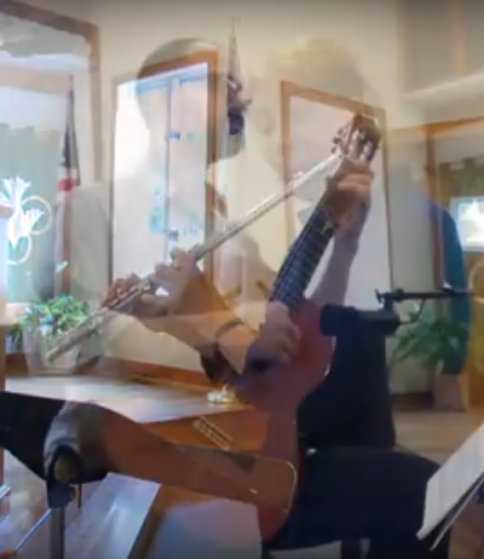 VIDEO of The Art of Change Opera, a Work in Progress presented at The New School's College of Performing Arts
Concerts 2020 through March:
January 2 – 25 USA New York: The Art of Change Opera at The New School
January 26 – February 8 USA Albuquerque, New Mexico: Residency with WAVE DASH~ (flute/percussion duo with Magdalena Meitzner) at the John Donald Robb Composers' Symposium, presenting 7 premiere performances
March 8 FRANCE Montpellier Musee Fabre: Premiere performance of Pèter Koeszeghy's Lips for Flute and Harp for 100th birthday celebration of Pierre Soulages
CANCELED:
March: teaching in Cologne, residency with Kaija Saariahoin Paris
April: concert and workshops in North Carolina
May: concert in Kunst-Station St. Peter, Cologne, Germany
June: concerts and master class in Casa San Michele, Piacenza, Italy
July: workshops in Montpellier, France and Helsinki, Finland
August: concerts in Helsinki and in Turku Finland.
November: ALL concerts –November Music in the Netherlands, Vernissage concert in Cologne, Germany
Highlights 2020
Albuquerque, New Mexico: Residency with WAVE DASH ~ (flute/percussion duo with Magdalena Meitzner) at John Donald Robb Composers' Symposium

The Art of Change – an Experimental Opera
"The Art of Change Opera", a teaser from Jean-Baptiste Barrière on Vimeo.
Highlights 2019
A new flute concerto!
Award-winning Blu-ray/CD
"EKSTASIS" by Kaija Saariaho & Jean-Baptiste Barrière with Aliisa Neige Barrière (violin), Camilla Hoitenga (flutes), Raphaële Kennedy (voice)
Extraits d'un /extracts of a Blu-ray + CD + Booklet CYP2624
Collection AVECypres, Label Cypres
℗ © Da Pacem & kastafior 2019